Attorney Profile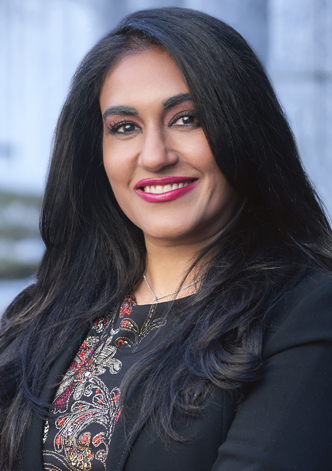 Amna Shirazi
Owner, Attorney
Top Atlanta immigration attorney, Amna Shirazi grew up in Atlanta, Georgia and studied for her undergraduate degree at American University in Washington, DC. In 2000, she received a Bachelor's and Juris Doctor from Georgia State University in Atlanta. She also received her LLM with a focus on Democratic Governance from the Emory University School of Law. She was selected as outstanding alumna of Georgia State University, one of 2 people who are selected each year who are mid-career professionals who have trailblazed a prominent career. Ms. Shirazi was selected for this prestigious honor in 2017.
As a well-known community educator, Ms. Shirazi is a constant and reliable source to Atlanta area newspapers who frequently publish her remarks about current immigrant issues and immigration policy. Ms. Shirazi also teaches seminars, writes op-ed pieces on immigration issues and has appeared in televised interviews in both Atlanta and Charlotte. An active member of the American Immigration Lawyers Association since 2001, she has been on panels and done work to assist within her local chapter. Further, Ms. Shirazi was selected to accompany President Carter as an election monitor in Sudan with the Carter Center. She served in Khartoum. She has worked and continues to work with our US Military actively assisting Afghans who were left behind in the wake of the United States withdrawal after the fall of Kabul.
Ms. Shirazi has a successful immigration practice focusing on deportation defense, detention, asylum/human rights, family immigration, domestic violence and consular issues, and handles all manners of appeal to the Board of Immigration Appeals as well as litigation in the federal courts. Amna Shirazi has been admitted to the State bar of Georgia; Supreme Court of Georgia; U.S. District Court, Northern District of Georgia; and the U.S. Court of Appeals, Eleventh Circuit.
Ms. Shirazi is an active member of her community and is on the Steering Committee of the International Rescue Committee, an Advisory Board member of the Department of Religion at Georgia State University and on the Board of Mental Health America. She commits her time to numerous local charitable organizations and political causes. Ms. Shirazi has been awarded several peer reviewed and prestigious awards for her outstanding work in immigration, the Fulton County Daily Report "Rising Star" award, Georgia Trend Magazine's 40 under 40, Super Lawyers and Georgia Trend magazine's legal elite.
Ms. Shirazi was elected to be in the 2016 class of Leadership Georgia, one of the nation's oldest and most respected nominated leadership programs that focuses on selecting the most prominent future leaders across the state of Georgia. She also teaches immigration law and speaks on educational panels around the state about immigration, especially to other bar associations such as criminal defense bars around the state educating them about the immigration consequences of taking plea deals in a criminal setting.
In addition to having a passion for helping lawful immigrants, Ms. Shirazi has a wonderful husband and two children she adores. Amna has a passionate interest in world politics, international relations, cooking, world travel, architecture and philosophy.