4 Most Common Visas Issued By The United States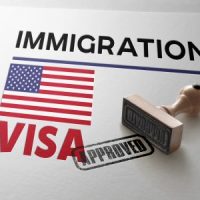 The United States Department of State's statistics of Immigrant visas issued in the fiscal year 2021 indicated that the total number of visas was well over 280,000. That year, because of the pandemic, the number of visas issued in the country was dramatically impacted. It was advised that only mission critical and emergency services were to be engaged at the end of March 2020. In previous years like in 2018, for example, over 530,000 immigrant visas were issued. Still, even though the number of immigrant visas issued was affected by COVID-19, people could still secure residence in the United States.
There are many visas that prospective residents can apply for. Working through the United States immigration system can often be difficult and arduous. And, especially for immigrants who do know the language, figuring out what the guidelines are and what rules apply can be difficult. In Georgia, the Atlanta family immigration attorneys at Shirazi Immigration Law, Inc. can help you identify the correct visa for your specific circumstances and assist you with obtaining it. Throughout every step of the immigration process, the seasoned legal team at Shirazi Immigration Law, Inc. is here for you.
What Visas Are the Issued the Most in the United States?
While there are many visas that an immigrant may utilize to meet their specific objectives, there are some that are issued the most frequently in the country. These would be:
H-1B
Individuals that use the H-1B Foreign Specialist Visa must have a bachelor's degree at a minimum for education requirements. Their degree must be in the discipline that they are coming to work in, or they must have the right amount of practical experience. Employers are responsible for paying fair wages, similar to what they would pay for an American citizen in the same position. Unless the worker applies for and obtains a green card, they will have to return to their home country when their temporary work assignment has come to an end.
TN
A TN Visa for Specialist Workers applies to individuals in Canada and Mexico. It is similar to the H-1B visa, but there is more leniency on educational requirements.
L-1
The L-1 Intra-Company Transfer Visa applies to individuals that have certain specific knowledge, skills, and abilities that can benefit others in a business they have been employed by for at least a year, with the business being some type of U.S. business affiliate.
J-1
Teachers, professors, librarians, doctors, and other professionals may be able to use the J-1 non-immigrant visa. This is a type of work-study exchange visa program.
One of these visas listed above may be right for you, or potentially, another would be appropriate. The most important thing to remember is that following the rules and ensuring everything is done correctly will significantly impact your ability to succeed with any visa you are applying for. Also, having a knowledgeable attorney helping you with this is critical.
Speak to a Georgia Immigration Attorney Today
For support and guidance with obtaining visas in the United States and all other immigration matters, the Georgia immigration attorneys at Shirazi Immigration Law, Inc. are ready to help. For a consultation to discuss your needs and case, please call Shirazi Immigration Law, Inc. today at 404-523-3611.
Source:
travel.state.gov/content/dam/visas/Statistics/AnnualReports/FY2021AnnualReport/FY21_TableIII.pdf