Explaining What United States Citizenship Actually Means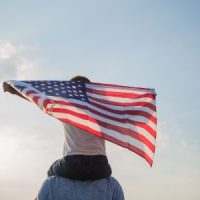 If you live outside of the United States and your home country is not America, but you would like to make that change, you would be one of many who have the same motivations. That is, to come to the United States, gain citizenship, and live the American Dream. The American Dream is different for everyone who comes to her shores. It could be to start a business, own a home in suburbia, or take advantage of any other bountiful opportunities the country offers. But what exactly, does it mean to be a naturalized citizen of the United States? More on this is below.
If you have questions about immigrating to the U.S. or would like assistance with the process, the Atlanta immigration attorneys at Shirazi Immigration Law Inc. can help.
All About U.S. Citizenship
If you were born in the United States, then you would become a citizen of the country. As a citizen, you have the right to vote, live, work, engage in civic duties, and take advantage of being involved in all opportunities within and concerning the country. The United States is one of the freest countries in the world and is brimming with possibilities for its citizens. Considered a "melting pot" that describes the great plight and presence of immigrants in the country. America is a melting pot and people from all over the world come and mix together to be a part of the country and its culture.
Without being born in the United States, you can become a citizen through naturalization. There are specific requirements for naturalization to take place, but if you meet the requirements, you could be eligible to go through the process and become a United States citizen. This is because naturalization is the process of becoming a citizen for individuals from other countries that were not born in the United States.
According to the U.S. Citizenship and Immigration Services (USCIS), well over 7.4 million people came from foreign lands and became naturalized citizens over the last decade. In the fiscal year 2021, 809,100 individuals gained citizenship in the country through naturalization. That year, March had the highest number of naturalization ceremonies with 86,500, while coming in second was August at 85,200. November, by contrast, had the lowest number of naturalization ceremonies, with 40,900.
If you are interested in coming to the United States and gaining citizenship but are unsure about what you can do to accomplish this and what it will take, an attorney can give you sound legal advice on your options.
Call a Family Immigration Attorney Today
There are many reasons why someone would want to come to the United States, and even though the immigration system is notoriously complicated, it is possible to gain citizenship. An attorney can help make the process go more smoothly.
For help with your immigration journey, please call the Georgia immigration attorneys at Shirazi Immigration Law Inc. at 404-523-3611 for the Atlanta office. Consultations to discuss your unique immigration situation are always complimentary.
Source:
americanhistory.si.edu/collections/search/object/nmah_1050823