How Do I Know If My Children Qualify For U.S. Citizenship?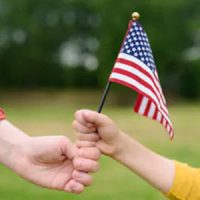 Citizenship can be a complicated process, especially when children with or of other nationalities are involved. This can come up in a variety of circumstances, from military parents who have children overseas, to U.S. citizens who adopt a foreign child or who marry a non-U.S. citizen and have a child in another country. In all of these cases, citizenship can be acquired for the child. This is known as derivative citizenship, which essentially means that your child can inherit your U.S. citizenship, however, there are some basic requirements. It's important never to simply assume that your child will automatically become a U.S. citizen or that no action on your part is required. In all cases you will be required to be proactive and file appropriate petitions and paperwork. It is generally advisable to consult with an immigration attorney and never to wait until the last minute.
Requirements for Derivative Citizenship for Children Living in the United States
A child must have at least one parent who naturalizes for them to receive derivative citizenship. In addition, the child must be living in the United States in the custody of the parent who naturalizes. The child must be under 18 years of age at the time of the parent's naturalization. The child must also currently be a lawful permanent resident. These children qualify for citizenship under Section 320 of the Immigration and Nationality Act and you can file for a certificate of their citizenship by using form N-600.
Requirements for Acquired Citizenship for Children Living Outside of the United States
Children living outside of the United States or primarily outside of the United States may still qualify for citizenship. As above, they must have at least one parent who is a U.S. citizen.  The U. S. citizen parent must have been a U. S. citizen at the time of the child's birth and must have lived in the U. S. at least five years before the child's birth.  The U. S. citizen parent must have spent at least two years after turning 14 in the U. S.  Children of U.S. military and servicemembers fall into this category. Even if the child is born on a U.S. military base overseas and has two parents that are U.S. citizens, their citizenship is not automatic. However, children who qualify for acquired citizenship are able to complete the entire process while overseas.
Talk to Shirazi Immigration Law
If you need help ensuring that your child obtains the citizenship that they are entitled to, the experienced Atlanta family immigration attorneys at Shirazi Immigration Law are ready to help. Contact us today to schedule a consultation.
Resource:
uscis.gov/citizenship/learn-about-citizenship/i-am-the-child-of-a-us-citizen