4 Steps to Renew Your DACA Status in the United States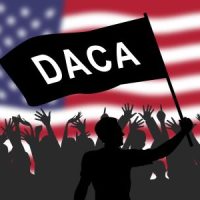 You may have been under the impression that the Deferred Action for Childhood Arrivals (DACA) program is dead in the water with the recent back and forth in legalities that it has gone through. DACA has indeed endured several legal challenges. And despite the changes to the law and in its current state where the program was judged to be illegal, for individuals that have DACA on or before July 16, 2021, renewing one's status is possible.
So, if you have DACA status, you may want to hold onto it and keep its protections. This is understandable. But how do you do this? The Georgia immigration attorneys at Shirazi Immigration Law Inc. are here to help answer that question.
For all of your immigration needs, Shirazi Immigration Law Inc. has an experienced U.S. immigration legal team that is here for you and can help you no matter how complicated your case may be. If you want to come to America, reach out to Shirazi Immigration Law Inc. today and learn more about your options and obtain a winning strategy that will help you meet your objectives.
Renewing DACA: A Quick How-To Guide 
The U.S. Citizenship and Immigration Services (USCIS) is allowing current DACA recipients to renew their status if they so choose. But there is a process and a cost to do so. Read on as the Atlanta immigration attorneys at Shirazi Immigration Law Inc. explain what to expect and the steps necessary for a DACA renewal.
Gather Your Documentation and Paperwork 
Find whatever paperwork you have that is your most recent, and use this to help you with your renewal application. If you have never renewed before and only have your initial paperwork, this would be considered your most recent and should be used.
Complete the Right Forms 
There are three forms you must complete. These are the I-821D, the I-765, and the I-765WS.
Pay the Filing Fee 
The filing fee that covers your employment authorization and your biometrics appointment comes out to a total of $495. You can pay by credit card, but you will need the G-1450 form to do so this way. Otherwise, you can get a money order, and when you make it out, be sure to write exactly this: U.S. Department of Homeland Security. Please do not make it out to anything other than this designation, or your application will be rejected.
Put Your Packet in Order 
You can renew online and follow the prompts to get everything submitted. Though, if you decide to send your renewal in, then it is recommended to put all of your paperwork in order in the following sequence held together with a paperclip:
Include your money order or, if you are paying by credit card, the G-1450 form.
Cover letter.
G-1145 form for correspondence from USCIS. (Optional)
I-821D
I-765
Your updated passport pictures.
A front and back copy of your employment authorization.
Include copies of any other information you need for your renewal.
Speak to a Georgia Immigration Attorney Today 
It is important to pay attention to the details when you are applying for a DACA renewal. After all, the purpose of applying is to get approved. If you would like more assistance with your DACA renewal, an Atlanta, GA, immigration lawyer at Shirazi Immigration Law Inc. can help.
For a consultation to discuss your needs and case, please call Shirazi Immigration Law Inc. today at 404-523-3611.
Source:
usa.gov/daca