Do I Have to Learn English to Become a U.S. Citizen?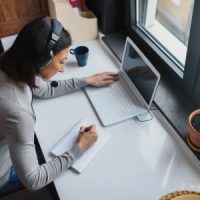 You have your own American Dream that you want to become a reality, so you start looking into the immigration process for coming to the United States. Suppose you only know your native language and cannot speak English. In that case, you could be wondering if this limitation will bar you from being able to enter the United States and ultimately obtain citizenship.
Concerns over language barriers are common for many non-English speaking immigrants wanting to come and live in America. It is important to understand that unless you meet specific criteria, attempting to learn the English language is a good idea. Failure to even try and learn English can hamper your efforts at becoming a U.S. citizen.
If you are worried that your lack of understanding of the English language will hurt your prospects of coming to the U.S. to live, an Atlanta naturalization and citizenship attorney at Shirazi Immigration Law Inc. can help. The legal team at Shirazi Immigration Law Inc. has assisted many individuals in this same situation and can provide resources and advice on what to do.
Language Barriers to U.S. Immigration and Citizenship
 There are several steps to take during the U.S. immigration process. Learning the English language is one of them. This is because there is an expectation that individuals who are granted citizenship have at least some basic grasp of the language so that they can function and thrive inside the country.
After your naturalization paperwork is submitted, you will be scheduled for an English test as part of the citizenship process. Your interviewer will use various tests to evaluate your reading, writing, and comprehension skills. In addition, as you are taking the test, all communications will be done in English.
If you feel overwhelmed and troubled by the thought of learning the English language, this is understandable. But, it is best to relax and understand that you do not have to learn the language so that you are completely fluent. If you have a decent grasp and proficiency with the language that you are able to exist and operate on your own as a citizen, you are in good shape.
Even if you are unable to pass the test on your first attempt, you are not out of options. You can reschedule a second attempt at taking the test. You will have to wait 90 days before you re-test. This gives you extra time to work on your English language comprehension skills.
In conclusion, with some exceptions, immigrants must have a satisfactory understanding of the English language. U.S. Citizenship and Immigration Services (USCIS) knows that individuals coming to the U.S. may not know how to speak English. As a result, they offer several resources for immigrants to help them learn the language.
Speak to a Georgia Immigration Attorney Today 
If you are preparing to start the immigration process into the United States, on your to-do list should be learning the English language. If you have questions about what is expected of you or how you can successfully work through the U.S. immigration system, please do not hesitate to reach out to the Atlanta, GA, immigration lawyers at Shirazi Immigration Law Inc.
For a consultation to discuss your needs and case, please call Shirazi Immigration Law Inc. today at 404-523-3611.
Source:
uscis.gov/citizenship/learn-about-citizenship/the-naturalization-interview-and-test