Is it Possible for International Students to Get School Loans in the U.S.?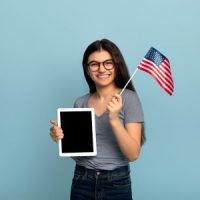 During the 2021/2022 academic year, there were 948,519 international students throughout the United States studying at various educational institutions. If you are considering coming to the United States on a student Visa to attend school and further your education, you could be wondering what your options are for paying for tuition. There is no doubt college tuition can be quite costly, which is why so many students internationally and domestically need financial assistance to pay for their education. It is understandable for any international student to inquire about their ability to obtain student loans in the United States.
If you live outside of the United States and are considering coming to the U.S. to live or to stay for a particular reason and period of time, then it can be helpful to speak with an Atlanta immigration attorney at Shirazi Immigration Law Inc. International students who want to learn more about what their options are for paying for school in the United States are welcome to meet with an attorney at Shirazi Immigration Law Inc.
Obtaining an International Student Loan 
To make a long story short, yes, international students can obtain financial assistance to pay for their United States college tuition. This is because there are loans that international students can apply for and obtain to go to school within the United States. Though, the rules and guidelines for getting a loan as an international student are different than it is for a U.S. citizen.
It is possible to secure an international student loan that can account for any costs associated with private education, such as tuition, books, or room and board, for instance. It is essential that an international student already be accepted to college in the U.S. before applying for a loan. In addition to showing that college admission has transpired, it may also be necessary to supply a student VISA along with a cosigner. A cosigner is an individual that is a U.S. resident who has good credit and will sign off on agreeing to pay for your loan balance if you are unable to.
The costs of your education that have not already been covered by aid, grants, or scholarships can be covered by a loan. Then, you would repay the loan amount you took plus the interest on it. Repayment of a loan can vary. For example, you may be required to start repayment immediately, you may be able to wait until you graduate, or you may have to pay interest charges while you are still in school and then pay the rest after graduation.
Speak to a Georgia Immigration Attorney Today 
Applying to school in the United States may be your dream, but figuring out how to pay for it is necessary. College tuition is very expensive. An international school loan may be right for you, or another funding source could be better. International students who have questions can reach out to the Atlanta, GA, immigration lawyers at Shirazi Immigration Law Inc.
For a consultation to discuss your needs and case, please call Shirazi Immigration Law Inc. today at 404-523-3611.
Source:
statista.com/statistics/237681/international-students-in-the-us/