9 Steps to the Adjustment of Status Process in the United States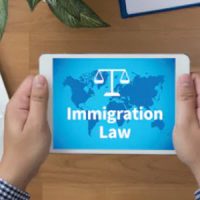 Perhaps you have come to the United States on a legal temporary visa, like a student visa, and would like to stay in the country by obtaining a green card. You may not be sure if this is possible or, if it is, what steps are necessary to get things going. The good news is that through the adjustment of status process, you may be able to stay in the United States while you begin the application process to become a lawful permanent resident.
Many people from all over the globe and around the world dream of coming to the United States to live and meet their full potential in America. Sometimes, a visit on a temporary visa is only meant to be a limited stay within the country, but then it becomes a desire not to have to leave. Getting a green card can be a challenging process, but it is not impossible. To lessen the stress and get a better understanding of what to do, the Atlanta immigration attorneys at Shirazi Immigration Law Inc. are here to help.
How Does the Adjustment of Status Process Work?
It may be possible for you to get your green card while you are in the United States, staying on some type of temporary visa. Here are the nine steps that you will need to take to get the adjustment of status process started.
Before you begin, check the status of your green card eligibility.
You'll need a sponsor, and that individual will have to choose the right form to file on your behalf. For example, an employment-based application will need the I-140 form.
Then it is time to wait. The USCIS may take many months or over a year to grant your petition.
If you are an immediate family member, then you will not have to wait for your green card application to continue forward. Others, though, will have to keep up to date on when their application can proceed by following the Visa Bulletin issued by the U.S. Department of State. For individuals that have to wait, be prepared that it could take several years.
File an adjustment of status application when your visa time comes about.
Then the USCIS will send you a date, time, and place to schedule your biometric appointment.
Depending on the results of your background check and the information on your adjustment of status application, an in-person interview may or may not be mandatory.
You will either schedule a follow-up interview or be required to provide additional information to USCIS.
Waiting time again. You will have, on average, 90 days to see if your application was granted or denied. If it is granted, then at this point, you can expect to get an approval notice and then, lastly, your green card.
Speak to a Georgia Immigration Attorney Today 
If obtaining a green card while you are still staying in the United States is your goal, then call an Atlanta, GA, immigration attorney for assistance.
For a consultation to discuss your needs and case, please call Shirazi Immigration Law Inc. today at 404-523-3611.
Source:
travel.state.gov/content/travel/en/legal/visa-law0/visa-bulletin/2023/visa-bulletin-for-june-2023.html