Can I Still Become A Lawful Permanent Resident If I Got Divorced?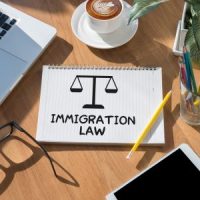 If you came to the country on a marriage visa or received a conditional two-year green card on the basis of a marriage to a U.S. citizen, a divorce can really complicate your legal status. The immigration process can feel daunting and hard to navigate, and you may be feeling overwhelmed, or like your status is in jeopardy. Don't worry. The good news is that there are legal options available that can allow you to continue on your path to citizenship, despite this rather big bump in the road. The more information you have about your options, the better off you will be.
What is the I-751 Visa?
The I-751 visa is usually applied for within 90 days of a spouse's 2-year conditional green card expiring. Usually, both spouses must submit for the visa jointly. Ordinarily, if you are unable to file jointly, your application will not be approved. However, if your marriage has been annulled or ended in divorce, you may be able to avoid this requirement with an I-751 waiver. This waiver also applies to abusive situations, and situations where the citizen-spouse is trying to control the immigrant by refusing to sign off on the I-751 visa or to withdraw their support. If any of these situations apply to you, it is always a good idea to talk to a lawyer. While there are legal options available, they can be limited and difficult to navigate correctly on your own. Having the right help to inform you of all available options and correctly assess your eligibility as well as to advocate for your rights can make all the difference when it comes to getting a positive outcome.
Getting an I-751 Waiver
An I-751 waiver is not easy to get but they are available in certain circumstances. The level of scrutiny placed on these petitions is high, since the person applying came to the country with an intent to marry and is now no longer married. The most important thing that they will be looking for when they review your application is that the marriage was authentically entered into and that you did have a genuine and bona fide intention of entering into and remaining in the marriage in good faith. The more evidence that you have to support that the relationship was real, the more helpful it will be in securing a waiver. Even though the marriage ended, and even if you have proof that it was abusive, you will still need to be able to establish that you entered into the marriage in good faith. A lawyer can help you present your strongest possible case when applying.
Talk to Shirazi Immigration Law
If you are in need of assistance with an immigration-related matter, such as obtaining an I-751 waiver, or considering the best immigration and visa options for you, the experienced Atlanta family immigration attorneys at Shirazi immigration Law are ready to help. Contact Shirazi immigration Law today to schedule a consultation.
Resource:
uscis.gov/green-card/after-we-grant-your-green-card/conditional-permanent-residence/removing-conditions-on-permanent-residence-based-on-marriage