Is A K-1 Visa Right For Me?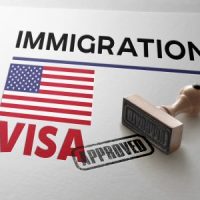 If the love bug bit you in another country, but you want to start building a life with your foreign fiance here in the United States, the K-1 Visa may be a good option for you. The K-1 visa, also known as the fiance visa, has become a bit of a pop-culture phenomenon, inspiring TV shows like 90 Day Fiance. However, long before it made its way onto TLC it has been a relatively cost and time-effective option for international finances who are looking to make it official in the U.S. Many couples who apply and are approved for the K-1 visa are able to begin a life together in the United States in as little as 5-7 months, which is a substantially shorter timeframe than is permitted by other popular visa options.
What is the K-1 Visa?
The K-1 Visa allows United States citizens to petition for a visa for their finance who lives in another country. If the K-1 visa is issued, it provides the couple 90 days from the date of issuance to get legally married in the United States. If the visa is not used during this time, it will expire and you may not be able to get another one reissued. Extensions are often not generally an option, so it's important to plan carefully and ensure that you are ready to get married and are capable of doing so within the timeframe allotted.
Am I Eligible for the K-1 Visa?
As you may have caught in the paragraph above, the K-1 visa does only work for U.S. citizens. U.S. permanent residents or green card holders will have to use a different method. Additionally, you must be able to demonstrate a financial ability to support your fiance. Generally, this requires an income 125% above federal poverty guidelines. You and your fiance must be able to provide documented evidence of your relationship, and proof of visitation over the past two years. You must also both be able to prove that you are single and legally able to marry. This may require proof of divorce papers or other documentation from their country depending on the legal processes there. Both you and your finance will have to sign papers committing to marry one another during this timeframe. Of course, you are not legally obligated to follow through on this plan, but you are required to have a good faith or bona fide intention of getting married when you apply for this visa. It should also be noted that your finance must be physically outside of the U.S. at the time this application is filed.
Talk to Shirazi Immigration Law
If you require assistance with an immigration-related matter, the experienced Atlanta family immigration attorneys at Shirazi Immigration Law are ready to help. Located in Moultrie, and Atlanta, Georgia, our lawyers will advocate for you and fight for your right to start a life here in the United States with the person you love. Contact Shirazi Immigration Law today to schedule a consultation.
Resource:
travel.state.gov/content/travel/en/us-visas/immigrate/family-immigration/nonimmigrant-visa-for-a-fiance-k-1.html