Common Visas That Allow Foreign Persons To Work In The United States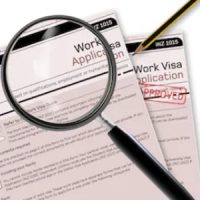 There are many ways to legally enter and reside in the United States for work reasons. Work visas are considered to be temporary/non-immigrant visas that are sought by foreign workers looking to be in the United States for a limited or fixed amount of time. Sometimes, these visas are based upon employer petitions although potential employees still need to physically apply for each specific visa. Other family members need to apply separately for their own visas. Following are some of the most popular temporary/non-immigrant visas.
H-1B Visas
If a U.S. employer cannot find a United States employee that possesses needed business abilities and skills, they can attempt to hire an H1-B non immigrant foreign worker that can fill the employer's needs. An example might be a computer program coder. Employers must agree to pay an H1-B non immigrant worker the same wages they would pay to an American citizen. Potential foreign employees need a bachelor's or equivalent degree in their applicable field and the employer must prove that the supply of American workers has been exhausted.
H-2A and H-2B Visas
Employers looking for help through the H-2A and H-2B visa programs are interested in seasonal agricultural or non-agricultural employees. The employers have the burden to show that hiring H-2A or H-2B workers will not be detrimental to the working conditions or the pay of like-employed United States laborers. H-2 holders' family members can apply for legal United States entrance through an H-4 nonimmigrant classification, but H-4 status would not allow the H-2 holder's family to work in the United States.
I Visas 
I visas are media visas reserved for foreign print, press, film, radio and TV workers that are temporarily traveling to the United States to work in educational or information settings. The I visa workers United States travel must correspond to an essential foreign media activity.
 O Visas
Those persons that have a record of extraordinary ability in sports, business, education or science fields can be admitted to the United States if they are visiting America to continue their work. The USCIS defines extraordinary ability as ability that is  "evidenced by a degree of skill and recognition substantially above that ordinarily encountered." A person meeting the above definition would apply for an O-1 visa. Persons that assist the O-1 applicant and have non-general skills and experience related to the O-1 applicant may apply for an O-2 visa.
R Visas
Foreign religious ministers can apply for an R-1 visa if:
They are employed by a non-profit United States religious organization.
They are employed by a religious group that carries a tax exemption.
They are employed by a non-profit group that has United States religious denomination ties.
The above are just a few of the many different foreign worker visa classifications that presently exist. As you can see, the application requirements can be exacting and vague at the same time, and many would-be temporary U.S. worker visa applicants need legal help as they determine exactly which would be the most appropriate visa application. If you have any questions regarding visa requirements, do not hesitate to contact a qualified Atlanta employment-based immigration attorney at Shirazi Immigration Law. Feel free to call now at 404-532-3611 or contact the firm today by using their convenient online form.
Source:
dol.gov/agencies/whd/immigration/h1b