Crimes That Can Cost You A Green Card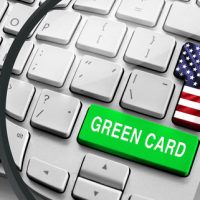 If you are applying for a green card, you may be concerned about the selection criteria. The process of being selected for a green card can be very competitive, and small errors on the application, or issues with prior criminal charges have the potential to keep your green card application from being approved. Additionally, if you are charged with certain crimes domestically or overseas while your application is pending or even after it has been issued, these charges can threaten your immigration status, and may result in the denial of your application. By having an understanding of what crimes can have a serious impact on your green card status, you can make a decision about whether the charges you are currently facing or any past convictions could create potential barriers for you in the naturalization process. Of course, it's important to remember that the information being provided here is general and no two immigration cases are alike. If you are pursuing a green card or are a green-card-holder who is currently facing criminal charges, it's important to consult one-on-one with an experienced immigration attorney to get an accurate assessment of your situation and options. Likewise, if you are considering applying for a green card but you have a past history of either criminal charges or convictions, talking to a lawyer before applying for a green card can be a critical and necessary step. Many people avoid consulting with an immigration attorney because of the cost, but the cost of trying and failing to navigate the immigration process on your own can cost you far more in the end. If you would like to talk to a Georgia immigration attorney, contact the Shirazi Immigration Law to schedule a consultation and find out how we can help you.
Crimes that Can Impact Your Ability to Get a Green Card
If you have been charged with a crime or have a criminal history, don't worry. Not all criminal charges or convictions will impact your ability to get or maintain your green card. However, it's always a good idea to consult with an attorney if you find yourself dealing with a legal situation. With legal help, crimes like DUI may not keep you from achieving your citizenship goals. There are three kinds of crimes though that can result in a denial or revocation of your green card. These include drug crimes, crimes of moral turpitude, and aggravated felonies.
Talk to an Immigration Lawyer
If you are in Georgia and in need of legal assistance with an immigration-related matter, the experienced Atlanta citizenship & naturalization attorneys at the Shirazi Immigration Law can help. With offices in Moultrie and Atlanta, Georgia, Shirazi Immigration Attorneys have the knowledge and experience to help you ensure the best possible outcome in your case. It's important not to hire just any criminal lawyer if you are also dealing with immigration issues that should be taken into account. Contact Shirazi Immigration Law today to schedule your personalized consultation.