What Is An H2B Visa?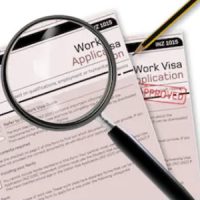 If you are a foreign-national looking for a way to work temporarily in the United States, the H2B Visa may provide a means of doing just that, provided the work you are coming here to do is non-agricultural. The H2B Visa is a popular option for employers in the resort and landscaping industries to bring temporary or seasonal labor to the county. The United States issues nearly 100,000 of these visas each year, however, the competition is still very stiff, so even minor errors on an application can cost you an approval. In this article, we will review some commonly asked questions about the H2B visa. If you would like to receive specific information and feedback on your case, your best option is to consult with an experienced immigration attorney. To speak with one of the experienced Georgia personal injury attorneys at Shirazi Immigration Law, feel free to reach out and schedule a consultation today.
How Do I Apply for an H2B Visa?
Unlike some other kinds of visas, the H2B visa application will be completed by your employer or a United States-based agent. Most companies apply for employee H2B visas on January 1st each year. You will then be notified of their approval for the H2B visa, and will report to the U.S. embassy in your home country to submit the required forms and documents necessary for the visa to be approved and issued. The primary forms that you will need to provide are the DS-156 and the DS-157, which are the application and supplemental application forms for non-immigrant visas. In addition, you will have to bring a passport, passport-size photographs, and the notification letter or email proving that you were approved for an H2B visa. You will also have to provide proof of your intent to return to your home country, such as the deed to a house or an on-going apartment lease, to show that you do not plan to stay in the United States indefinitely. Finally, you will be responsible for filing fees.
What are the Eligibility Criteria for an H2B Visa?
In addition to the forms and documents, the worker must meet certain eligibility criteria. First and foremost, the most critical eligibility criteria is that the worker be from one of the countries approved for H2B visa admission. There are over 80 eligible countries, and the register is updated each year. Countries such as the Dominican Republic, Ecuador, Chile, Argentina, and El Salvador are all eligible for H2B visas. To see if your country is approved, you can check the federal register for the most up to date information. The good news is that unlike the H1B visa, which requires extensive education or niche professional skills, the H2B visa does not have any education or skill requirements or criteria that must be met, provided the worker is not engaged in agricultural services. There are additional requirements that must be met by the U.S.-based company.
Schedule a Consultation with Shirazi Immigration Law
If you need assistance with an employment-related immigration or visa issue, the experienced Atlanta employment based immigration attorneys at Shirazi Immigration Law can help. With offices in Moultrie and Atlanta, Georgia, we are ready to help you navigate the naturalization process. Contact us today to schedule a consultation.
Resource:
federalregister.gov/documents/2019/01/18/2019-00074/identification-of-foreign-countries-whose-nationals-are-eligible-to-participate-in-the-h-2a-and-h-2b