Lawful Vs. Conditional Permanent Residents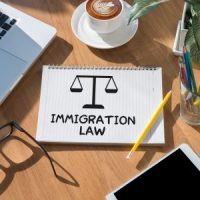 If you are beginning to explore U.S. immigration options or are starting to familiarize yourself with the process, you may have questions about some of the different terminology. There are many different options available for those who wish to emigrate to the United States as well as for those who are already here. Getting an understanding of what options are available to you and what the scope of applicable statuses are will help you determine which immigration path to pursue. Of course, it is always best to talk to an experienced immigration attorney, but here we will give you some general information on the basic terms of conditional permanent residents and permanent residents.
Legal Permanent Residents
Legal Permanent residents do not have U.S. citizenship, but they do possess a green card, which gives them the right to live and work in the United States permanently. You may also have heard permanent residents referred to as "green card holders." Lawful permanent residents have many of the same rights and privileges as U.S. citizens, however, there are still some restrictions on their status. For example, while a lawful permanent resident may travel more or less freely in and out of the United States, they may run into trouble if they leave the country for six months or more. Doing so could actually result in the loss of their legal permanent resident status. This issue may be bypassed by obtaining a re-entry permit ahead of their trip, but that is a step that a U.S. citizen would not have to worry about.
Conditional Legal Permanent Residents
Conditional legal permanent residents–as the name implies–have certain conditions on their residency in the United States. A conditional permanent resident receives a green card that is valid for only two years from the time that it is issued. Once the green card expires, it cannot be renewed, however, legal permanent residents may have the conditions on their green card removed so that they are able to remain in the United States permanently. Generally, the two primary ways to accomplish this are through marriage or entrepreneurship, requiring the filing of Form I-751 or Form I-829, respectively. These forms must be filed 90 days prior to the expiration of the resident's green card. United States Citizenship and Immigration Services (USCIS) has an online calculator that you can use to determine exactly when to file so that you can have the conditions on your green card removed and avoid an expiration. If you are nearing your 90-day window it is a good idea to consult with an attorney to determine whether you have a basis for removing the conditions from your permanent residency so that you can remain in the country.
Contact Shirazi Immigration Law
If you are interested in pursuing immigration, expediting the process, or learning more about it, the experienced Atlanta citizenship and naturalization attorneys at Shirazi Immigration Law are ready to help. With offices in Moultrie, and Atlanta, Georgia, we have dedicated staff ready to meet your needs. Contact Shirazi Immigration Law today to schedule a consultation.
Source:
uscis.gov/forms/filing-calculator-for-form-i-751-filing-jointly-with-your-spouse