What Do I Need To Know About Getting A Tourist Visa?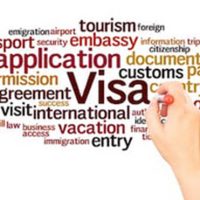 If you are traveling to the United States temporarily then a tourist visa may be the right Visa for you. Tourist Visas, also known as the B-1 or B-2 Visa, is for foreign-nationals seeking to temporarily visit the United States. The B-1 Visa applies for those coming to the United States for business purposes, while the B-2 Visa applies for those coming to the United States for recreational reasons or for medical treatment. It's important to note that the B-1/B-2 Visas are often combined and issued as one Visa. For most visit purposes to the United States, this will be the correct Visa. It's critical that you are honest about your reasons for coming to the United States and apply for the Visa that actually serves your needs. For instance, if you come to the United States on a tourist Visa to marry your fiance, instead of applying for the proper K-1 Visa, you can later face serious consequences, including even deportation, for immigration fraud. For this reason, it's necessary to understand the available Visa options and ensure that you are applying for the appropriate option that best meets your needs (and that you also meet the legal requirements for). An immigration lawyer can be very helpful in terms of assessing your situation and determining the best path toward naturalization. This article provides generalized information on tourist visas. However, if you would like personalized feedback based on your unique circumstances and situation, you are encouraged to schedule a consultation with Shirazi Immigration Law, Inc.
Do You Meet the Requirements for a B-1/B-2 Visa?
As noted above, there are a number of requirements that must be met in order to qualify for the B-1/B-2 Visa. Ensuring that you meet these requirements before you apply, and applying for a visa that you qualify for, will streamline the process and allow you to get the correct visa as efficiently as possible. The first requirement is that your visit to the U.S. must be temporary and for one of the purposes approved by the visa, such as recreation, a conference, medical treatment, etc. You must also show evidence that you plan to only remain in the U.S. for a limited period of time, such as a return plane ticket, and evidence that you still maintain a residence abroad and have economic or other ties abroad that would require you to return, and proof that you have the finances to support yourself while you are in the U.S.
Schedule a Consultation with Shirazi Immigration Law, Inc.
If you are interested in pursuing immigration, or require assistance with an immigration-related issue, such as applying for and obtaining a visa, the experienced Atlanta citizenship & naturalization attorneys at Shirazi Immigration Law, Inc., are ready to help. Serving Moultrie, and Atlanta, Georgia, Shirazi Immigration Law is committed to helping you move forward toward the best possible outcome. Contact us today to schedule a consultation.