What Is Marriage Fraud?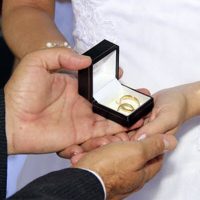 Fake marriages are illegal. And what's more, individuals that engage in fraud and try to use a fake marriage to get into the United States make it that more difficult for those that are truly legitimately in love from being able to be happy and be together living in the country. Trying to evade the immigration laws is not an uncommon occurrence but, still, this type of behavior happens. Because there are those that will always defraud the system, individuals who are truly playing by the rules can be affected negatively and have a harder time getting access to the American dream as they will undergo much more scrutiny.
There are several different ways that one can immigrate legally into the United States. But, determining how to do so and what is needed can be challenging and quite complicated. This is why, when there is a desire to come to the United States, working with a seasoned legal professional can help. Shirazi Immigration Law, Inc., is an Atlanta-based immigration law firm that you can count on for trusted and effective legal counsel on U.S. immigration law.
What is a Real Marriage in the United States?
In the United States, for a legal marriage to exist, the following must happen:
A real marriage ceremony takes place
All governmental documents and certifications secured
The couple plans to establish a life together
If everything is done, all the red tape is taken care of, but if the aftermath of a marriage does not result in a true relationship where the couple embarks on a life together, then the relationship quite reasonably could be perceived as a scam.
U.S. immigration laws for granting a green card are clear. When a marriage is invalid or fraudulent this is unlawful. That means that a married couple who truly are honest about their relationship has to make sure that they have taken the necessary steps to be in a legal union. For instance, maybe a married couple in the United States decides to separate but they are not yet divorced. Then, one of the separated parties falls in love with someone else. This individual and their new love decide to marry. While they can go through the marriage ceremony, and while they may truly be a real couple, if the first marriage was not dissolved and a legal divorce secured, then the second marriage is invalid. As such, if the new spouse applies for a green card, their application is fraudulent. 
Speak to an Atlanta Family Immigration Lawyer Today
There are pathways that can be legally used to bring in the one you love to the United States, allowing them to become a bona fide U.S. citizen. Marriage can be investigated and if fraud exists it will be an uphill battle to get back into the country. For individuals in Georgia that need help with this process, please call the Atlanta family immigration lawyers at Shirazi Immigration Law, Inc. at  404-523-3611.
Source:
uscode.house.gov/view.xhtml?req=granuleid%3AUSC-prelim-title8-section1154&num=0&edition=prelim