Report Shows ICE Runs A Massive Surveillance Program On Adults In The United States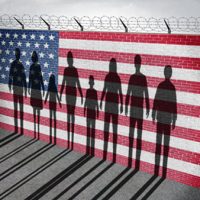 Being targeted for deportation is a stressful and trying situation to be in. And, if you or someone you love has been in this position before, you know exactly how difficult it can be. Being in the country illegally can be nerve-wracking especially when there is talk of Immigration and Customs Enforcement agents around and about. While you may be aware of surveillance by the government to some capacity, you may not have believed that ICE was one of those agencies that had such a capability. A report out of Georgetown University's Center on Privacy and Technology details exactly how ICE is surveilling people in America.
If you reside in Georgia and you are subject to removal, you may be wondering how you can remedy your situation and if there is any way you can avoid being deported from the country. It is best to work with a legal professional who understands immigration law in these instances. The Atlanta deportation defense attorneys at Shirazi Immigration Law, Inc. can help.
A Report Shows Widespread Surveillance by ICE
An investigation over a two-year period by the Center on Privacy and Technology at Georgetown University showed that ICE has a domestic surveillance program. This program is so effective it can pull, at almost any time, detailed reports on people residing in the United States. The justification for this capability is the need to have data to support deportation efforts.
When someone applies for a driver's license or has an account with a local utility for services such as water, ICE can access these individuals' personal information. Also, when someone provides their personal information so that they can find family members to reunite with them, that information can be used and put towards deportation.
As many as 32% of residents in the country have been exposed to facial recognition technology scanning their driver's license photos. Further, adults living in large cities across the county that are home to 70% of all adults are having their movement tracked as they drive. Also, should someone move and start a new life in a different location in the country, as soon as they connect with a utility provider, set up a phone, or even get connected to the internet, ICE has access to that new address.
If you are troubled by this, you are not alone. There are many organizations that recognize these civil rights shortcomings and as a result, played a critical role in developing the shocking report. Some of these organizations include the Immigration Defense Project, Mijente, the American Civil Liberties Union, CASA, and more.
The proposition of deportation can be scary, but partnering with a legal professional improves the chances of a favorable outcome. Amassing more than two decades of immigration defense experience, the attorneys at Shirazi Immigration Law, LLC can help you solve your issues in an efficient manner and with the highest level of customer support and dedication.
Speak to a Georgia Deportation Defense Attorney
You do not have to go to your deportation hearing alone. Call one of the talented and caring Georgia deportation defense attorneys at Shirazi Immigration Law, LLC today. You can schedule an initial consultation by calling 404-523-3611.