Is An F-1 Student Visa Right For You?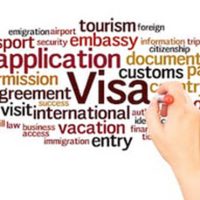 The F-1 Visa is a means to allow students from other countries to live in the United States temporarily so they can go to study at school, college, or other educational institutions. To study in the United States for those individuals that are not citizens or hold a green card, the F-1 Visa process may be the right approach. The F-1 Visa is a temporary entrance into the United States with the defined and specific purpose of going to school. What the F-1 Visa is not, is a way to come to the United States and stay permanently which would be the case when an immigrant visa is applied for.
If you have been dreaming of coming to the United States to attend one of the many esteemed academic institutions to learn about a specific discipline, then you may be eligible for an F-1 Visa to do just that. For help with the process, the Atlanta non-immigrant visa attorneys at Shirazi Law offer assistance.
Should You Get an F-1 Visa?
When you have your heart set on an academic institution in the United States where you can come to study from your home country, you will have to make sure that such an institution is accredited to receive students on F-1 Visas. The Student Exchange and Visitor Program (SEVP) has more information on this.
If you have to work to support yourself during your studies while you are staying in the United States, you can do this, but with exceptions. During your first year at your school, you can work on-campus. Then after that first year, you can work in limited off-campus capacities. These include:
Curricular Practical Training
Optional Practical Training
Science, Technology, Engineering, and Mathematics Optional Practical Training
Optional practical training means that an F-1 Visa holder can work off-campus in an area related to what they are studying in school.
There is much to consider when thinking about coming to the United States to embark on and complete your studies. However, if you have determined that you are going to get an education in the United States, then an Atlanta student visa attorney at Shirazi Immigration Law, Inc. can assist you throughout the entire process.
In terms of family, if you have a spouse and children they may come with you on your F-1 Visa. This is good news as you will not have to make the difficult choice to go abroad to learn about a specific area of study while having to be so far away from family. But, your spouse and your children will not be able to work while they are residing in the United States. The good news is that if you have young children who would not be eligible to work, they are permitted to enroll and go to schools to continue their education in the U.S.
Speak to an Atlanta Immigration Attorney Today
For those interested in what options are available for non-immigrant status including the F-1 Student Visa, please call the Atlanta non-immigrant lawyers at Shirazi Immigration Law, Inc., to learn more.
Shirazi Law offers initial consultations. Please call today to schedule yours at 404-523-3611.
Source:
ice.gov/sevis